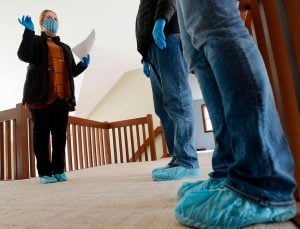 You were in the process of searching for a new home. Or maybe you were transferring to a new job in a new town. Then the pandemic hit the country like a sledgehammer and house hunting suddenly became possibly an immense health risk. The real estate market never closed down completely the way some businesses did. Now the real estate business is beginning to return to almost normal, or as normal as it gets for the near future. So what is the best way to resume house hunting or house selling while staying safe and avoiding the covid-19 virus?
With mortgage rates near an all time low, plenty of people are looking to take advantage of them and get a larger, more expensive house than they thought they could qualify for. The good news for sellers is that home prices are on the rise and the homes for sale inventory is extremely low. Homes are currently selling in a matter of days, sometimes even before they are listed on the MLS.
New Safe Ways to Tour a Home
The safest way is to tour a potential home is through a virtual tour. These video tours allow you to at least see what the home looks like without actually visiting the home or setting foot in it. You can access the videos at anytime and view them as often as you like. Some are 3D in nature; others are more or less a short film. Either one of these tours will enable you to keep the home on your list or remove it.
Another new way to "visit" a home for sale is through a video-chat. Your agent can visit the home and do a live walk-through. Working this way will allow you to ask questions as you go and also grab a second look at something that comes to your attention.
Something in that garage caught your eye so you ask your realtor to allow you a second look at it before he/she leaves the house. Was that a linen closet the realtor just walked by? You can have the realtor open the door so that you can see how large it really is.
Precautions With "In-Person" Home Tours
If you are a seller:
Keep a bottle of hand sanitizer near the front door with a sign asking anyone who comes in to please use it before going any further.
Leave all the interior doors wide open so that people don't have to touch doorknobs to look into a room or a closet.
After any home tour disinfect all commonly touched surfaces.
Ask that only two people at a time tour the home (along with the realtor of course).
If you are the buyer:
Meet the realtor at the home rather than have them drive you there.
Wash your hands before you enter and as soon as possible after leaving.
Wearing latex gloves may be a smart idea.
Try to avoid touching anything.
Remember to continue to practice social distancing and wear a facemask.
The coronavirus hasn't stopped people from searching for and buying new homes during these trying times. Just follow government guidelines and take appropriate safety measures to protect yourself and anyone else you may come into contact with. Everyone on each side of the experience, buyer and seller, should be concerned about safety.
–Karl Kennedy
Author of ProjectorTop.com